Ich hatte zwar das Glück diesem Winter für eine Zeit lang bei wohlig warmen 30 Grad in Südafrika entfliehen zu können, dennoch kann ich den Sommer und meine nächste Reise kaum erwarten. Um auch in Wien auf die frische Meeresbrise nicht verzichten zu müssen, habe ich die ersten sonnigen Tage genutzt und mein neues Sophia Dress Coral aus der aktuellen AHOY! Kollektion von Lena Hoschek ausgeführt <3 Die Designerin ist bekannt für besonders weibliche Silhouetten, was sich einmal mehr bei diesem maritimen Kleid im Corallenprint bemerkbar macht. Ich bin absolut begeistert, denn dieser Schnitt zaubert ein perfektes Taille-Hüfte Verhältnis und betont dabei auch noch auf eine verführerische Art das De­kolle­té. Die weiche Baumwolle verleiht dem Kleid auch einen gewissen Körper, was ich gerade bei figurbetonten Ausführungen besonders wichtig finde. Erst dachte ich, dass sich das Kleid nur mit Pumps oder Sandalen kombinieren lässt, aber da meine Supergas und ich unzertrennlich sind, wurde ich schnell eines Besseren belehrt. So ist das schöne Stück durchaus wandelbar und erlaubt in Kombination mit Sneakers und Jeansjacke einen netten Mix aus casual und elegant. Besonders praktisch bei den Lena Hoschek Kleidern finde ich immer die versteckten Innentaschen an den Seiten – ideal, um das Haus auch mal ohne Handtasche zu verlassen.
Auf die Tasche wollte ich diesmal aber nicht verzichten und habe den Sommerlook mit einem großen Strandkorb von Manouc komplettiert. Perfekt für Handtuch und Badesachen im Sommer, aber auch praktisch für das Picknick im Stadtpark:)
PS: Das Sophia Dress ist auch in anderen Farben erhältlich.
HIER findet ihr alle Farbvarianten<3
Although I was lucky to escape from winter and enjoy the South African sun for a while, I can hardly wait for summer and my next trip.
In order to have a fresh sea breeze in Vienna as well, I used the first sunny days to dress up in my new Sophia Dress Coral from the current AHOY! collection by Lena Hoschek <3 The designer is known for the femininity of her silhouettes, which is prooved once again with this nautical coral print dress. I am absolutely in love with this beauty, because it´s cut creates a perfect waist/hip ratio and emphasizes the sexy neckline. The soft cotton gives the dress a certain body, which I think is very important especially with body enhancing cuts. At first I thought this dress could only be combined with pumps or sandals but since my Supergas and I are inseparable, I was proved wrong. Paired with white sneakers and a cool denim jacket you can create a nice mixture of casual and elegant. It´s particularly convenient that all Lena Hoschek dresses come with hidden inner pockets – ideal to leave the hand bag sometimes at home (but not this time). I completed the summer look with a large beach basket from Manouc. Perfect for towel and bikini in summer and also convenient for picnics in the park:)
PS: The Sophia Dress is available in several colors.
HERE you´ll find all variations <3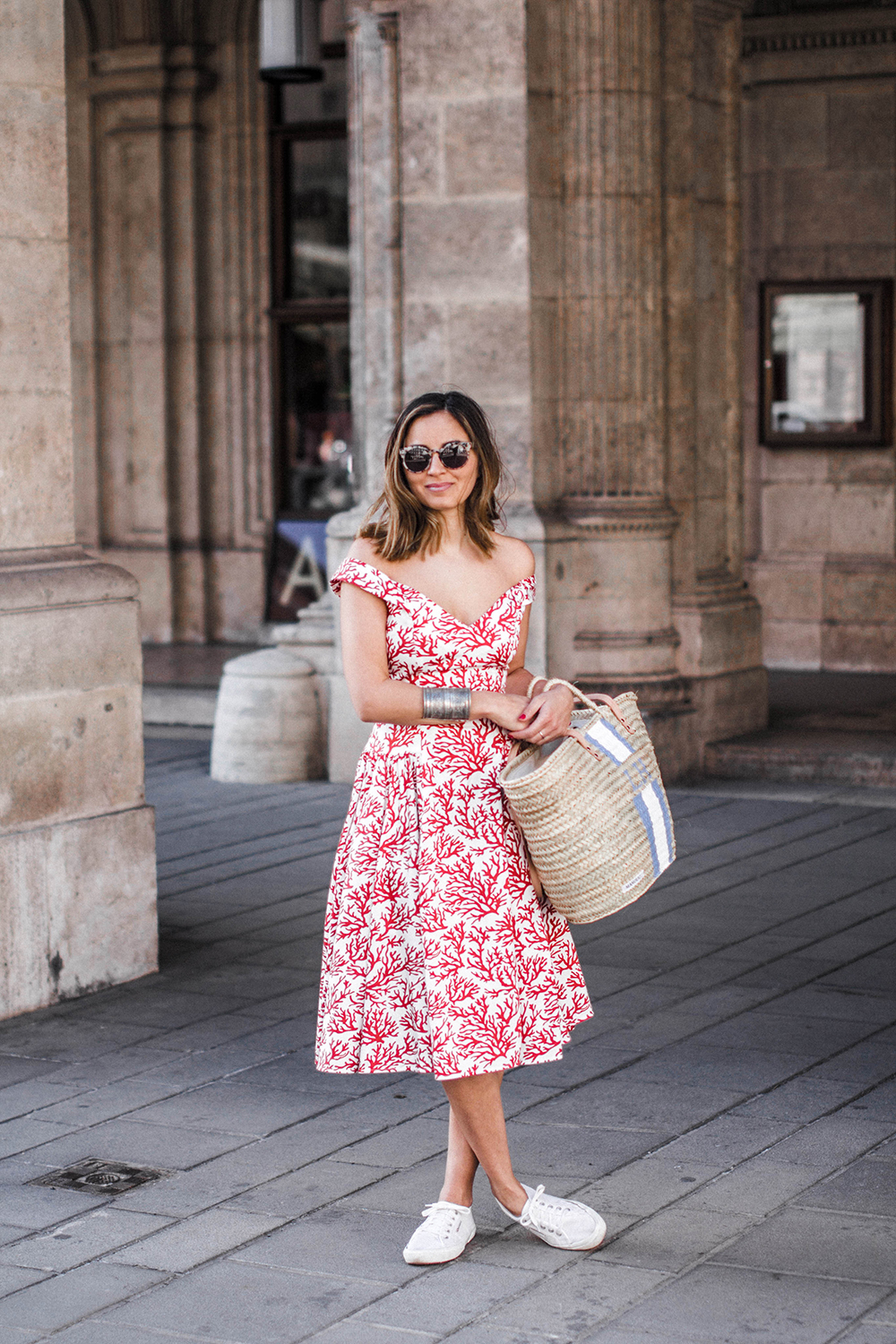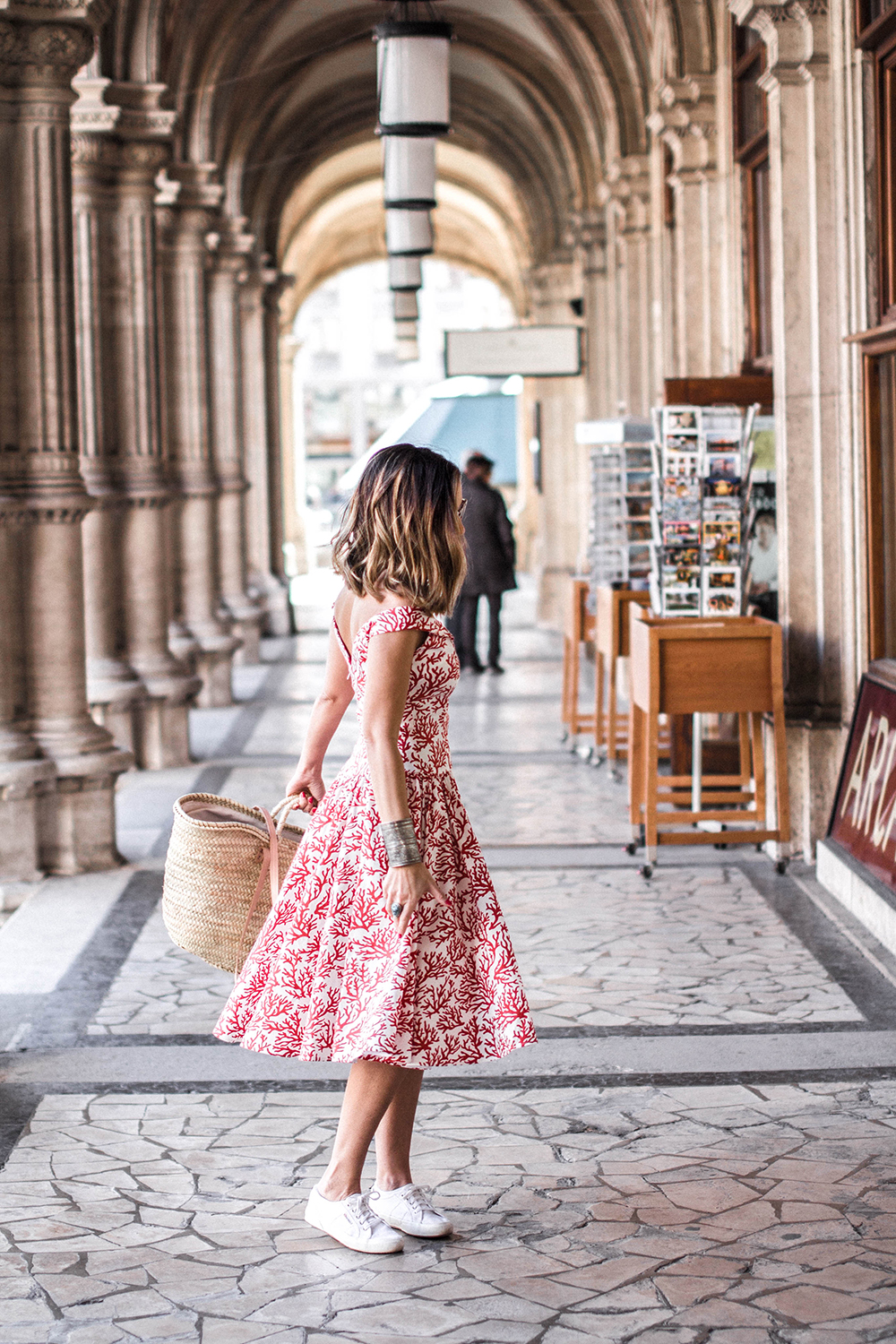 Kleid//Dress: Lena Hoschek – Sophia Dress Coral
Tasche//Bag: Manouc – Moroccan Basket Monogram
Sneakers: Zalando – Superga