Südafrika, ein Land dessen Sehenswürdigkeiten mindestens genauso vielseitig sind, wie die Tierwelt. Endlos scheinende Weiten, beeindruckende Strände, majestätische Berge…
Schon sehr lange stand Südafrika auf meiner Bucket List und Ende November, als die Temperaturen sanken, war der beste Zeitpunkt gekommen, Österreich für ein paar Wochen zu verlassen und dieses wunderbare Land zu erkunden. Die unendliche Vielfalt, die Südafrika zu bieten hat, lässt sich schwer in wenigen Worten zusammenfassen, dennoch möchte ich euch eine Top 10 Liste meiner Places to Visit vorstellen:
1 Tafelberg
Ein Must-See in Kapstadt ist definitiv der Tafelberg. Ich, als Gelegenheitssportlerin gelangte nach 4,5 Stunden Auf-und Abstieg zwar gehörig an meine Grenzen, ABER die Anstrengung war es allemal wert, denn man wird mit einer unbezahlbaren 360° Aussicht am Plateau belohnt! Zu beachten wäre bei der Planung nur, dass man den Aufstieg an einem Tag wählt, an dem der Himmel klar ist, da nicht selten ein sogenanntes Tablecloth (Nebelschicht über dem Tafelberg) den obersten Teil des Berges verdeckt.
2 Bester Burger der Stadt
Natürlich knurrt der Magen nach stundenlangem Wandern und wir mussten uns erst mal stärken. Der Mexican Chili Burger im "The Bitch´s Tits" – ein Burger in dem Chili Con Carne über das Patty gegossen wird, garniert mit Salat und Tomate, einfach perfekt<3 Die einzige Schwierigkeit dabei, diesen riesigen Leckerbissen ohne Besteck zu verspeisen. Bleibt nur noch eines zu sagen: Get dirty with your food!
3 Pinguine
Boulders Beach,  ein Küstenstreifen bei Simon´s Town, wo sich Menschen und Pinguine aus nächster Nähe beobachten. Hier tummeln sich hunderte der kleinen süßen Frackträger und genießen es sichtlich im Mittelpunkt zu stehen. Für mich, als Tierliebhaberin war es ein magisches, Erlebnis gleich so viele dieser entzückenden Seevögel auf einmal in Freiheit zu sehen. Sollte bei jedem Südafrika Reisenden ganz oben auf der Liste stehen!
4 Fatbike Tour
Die Sunset Sand Dunes Tour in der Nähe von Grootbos führt mit dem Fahrrad durch hügelige Sanddünen. Klingt irrsinnig anstrengend? War es auch 🙂 Wie bereits erwähnt, bin ich nicht der sportlichste Mensch, aber diese Tour würde ich immer wieder machen! Sie war definitiv eines meiner Highlights in Südafrika. Abgesehen vom enormen Spaßfaktor führt die Sunset Tour schlussendlich zum Walker Bay Strand, wo man einen atemberaubenden Sonnenuntergang bewundern kann.
5 Misty Mountain
"Meine erste Tochter soll Misty heißen", sagte ich mehrmals nach unserem Aufenthalt im Misty Mountain Reserve. Nach einem holprigen Weg auf einer unbefestigten Straße in Tsitsikamma erwartet man viel, aber nicht ein Resort wie dieses. Empfangen wird man von wunderschönen Pfauen, die sich frei auf dem gesamten Areal tummeln. Wir durften in herzigen, aneinander gereihten Cottages mit niedlichen Namen, wie Tortoise und Dove wohnen und waren vom unglaublich guten Essen, dem außerordentlich netten Personal und vom traumhaften Ausblick auf´s Meer schlichtweg begeistert. Wem ein Tag am Pool mit Cocktails zu fad wird, kann eine abenteuerliche Quad Tour mit Jurassic World Feeling buchen. Auch wenn Misty Mountain ein idyllisches Resort zum Entspannen ist, kann es dennoch vorkommen, dass man früh morgens von spielenden Affen am Dach geweckt wird;)
6 Safari
Die Safari ist vermutlich der Höhepunkt einer jeden Südafrikareise. Zumindest war sie das für mich! Beim Schotia Safari Park handelt es sich um einen privaten Nationalpark in der Nähe von Addo. Auf einer 6-stündigen Tour mit einem ortskundigen Ranger sieht man in diesem Park wirklich JEDES Tier, das man sonst nur aus "König der Löwen" kennt (btw. ich habe den Film nie gesehen…shame on me!) Wir konnten unseren Augen kaum trauen, als ein gigantischer Elefant zum Greifen Nah an unser Auto kam. Es war fast schon surreal, diesen sanften Riesen außerhalb eines Zoos in seinem natürlichen Lebensraum zu beobachten. Es folgten Zebras, Giraffen, Kudus, Antilopen, Krokodile, Nilpferde,….. ich kann sie gar nicht alle aufzählen 🙂 Um ehrlich zu sein wurde mir bei den Löwen schon etwas mulmig zumute, aber da die Tiere die Fahrzeuge gewöhnt sind, fühlen sie sich dadurch auch keineswegs gestört. Ein kleiner Tipp noch zum Schluss: Auch wenn man dieses innige Bedürfnis verspürt jedes Tier zu fotografieren, sollte man der Kamera zwischendurch auch mal eine Auszeit gönnen und die wunderbaren Eindrücke einfach nur auf sich wirken lassen<3
7 Hängebrücke
Ein 20 minütiger Wanderweg führt zur Stormsriver Hängebrücke, die mich lehrte, was Höhenangst wirklich bedeutet. Man wird jedoch mit einem tollen Ausblick belohnt<3
8 Regenbogenexplosion
Bo-Kaap ein kleines, geschichtsträchtiges Viertel am Fuße des Signal Hills in Kapstadt. Bo-Kaap ist berühmt für seine bunten Häuser und engen Gassen. Ich liebe Farben und verliebte mich auf Anhieb in die positive Energie, die diese süßen Häuschen ausstrahlten. Die Straßen entlang zu gehen fühlte sich an, als wäre man direkt in einem Regenbogen gelandet. Traumhaft schön! Mein Fazit: Ein Bo-Kaap Besuch sollte unbedingt zum Pflichtprogramm eines jeden Kapstadt Touristen gehören.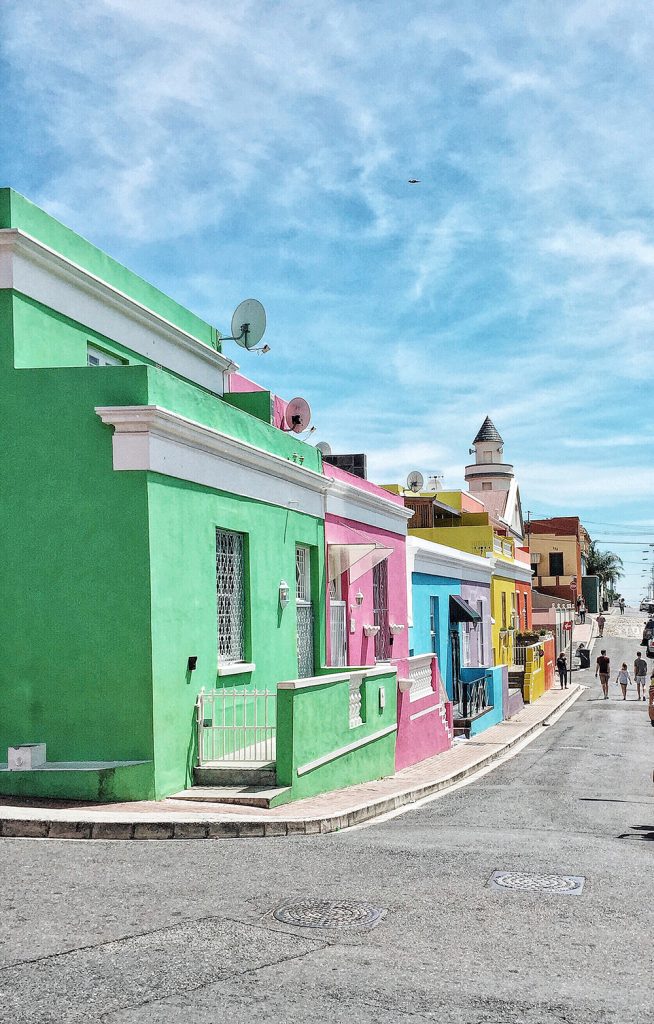 9 Signal Hill
Den Sonnenuntergang am Signal Hill zu sehen war traumhaft! Vor allem viele Einheimische lassen den Tag bei einem Sunset-Picknick am Signal Hill ausklingen. Daher ist es ratsam, sich rechtzeitig auf den Weg zu machen, um zu verhindern, dass man das Abendrot vom Auto aus beobachtet.
10 Camps Bay
Direkt unterhalb der 12 Apostel befindet sich Camps Bay, ein wunderschöner Badeort in Kapstadt. Obwohl der weiße Sandstrand, die tolle Palmenpromenade und die spektakuläre Bergkette im Hintergrund viele Touristen anlocken, sollte man diesen hippen Strand unbedingt mal besucht haben. Wir haben hier unseren allerletzten Tag in Südafrika bei rund 30 Grad in der Sonne genossen, bevor es wieder zurück ins eisige Wien ging.
South Africa´s landmarks are as diverse as the wildlife. Endless wides, impressive beaches, majestic mountains…
South Africa has been on my bucket list for a very long time and by the end of November, when temperatures were falling, it was best timing to leave Austria for a few weeks and explore this wonderful country. The endless variety South Africa has to offer can´t be summarized in a few words, but I wanted to compile a top 10 list of my favorite places to visit:
1 Table Mountain
A Must See in Cape Town is definitely the Table Mountain. I am not really a sportsperson, so I came to my limits after 4.5 hours of hiking (up and down), BUT the effort was absolutely worth it. We got rewarded with an incredible 360° view!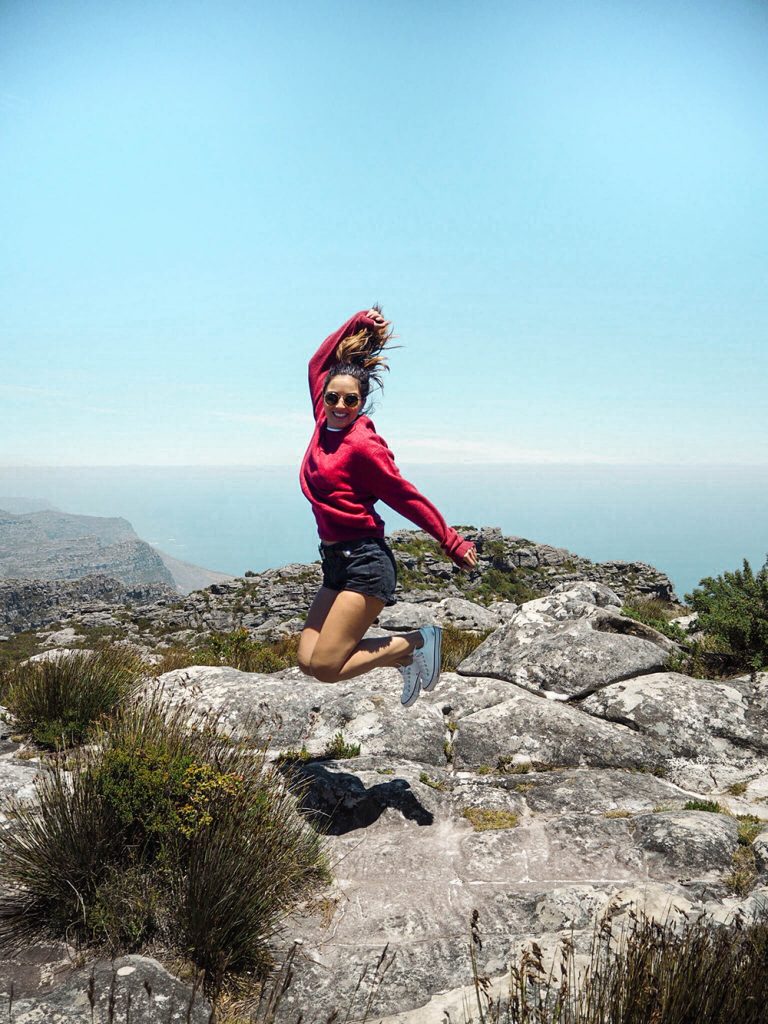 2 Best burger in town
Of course I was hungry after hours of hiking, so I went to "The Bitch´s Tits" and had the most delicious burger in my entire life. The Mexican Chili Burger – a burger in which chili con carne is poured over the patty, garnished with lettuce and tomato, just perfect <3 The only difficulty with this giant burger is to eat it without cutlery. Well, there is only one thing left to say: Get dirty with your food!
3 Penguins
Boulders Beach, a small coast at Simon's Town, where humans and penguins are living together in harmony. Hundreds of tiny penguins are enjoying to be the centre of attention there. For me, as an animal lover, it was a magical experience to see so many of these cuties living in freedom.
4 Fatbike Tour
The Sunset Sand Dunes Tour near Grootbos is an unforgettable tour by bike through hilly sand dunes. Sounds very hard? It definitely is! 🙂 As I mentioned before, I'm not the most athletic person, but this tour was one of my highlights in South Africa. Besides the enormous fun we had, the sunset tour finally lead to Walker Bay Beach where we enjoyed a breathtaking sunset.
5 Misty Mountain
"I´m gonna name my firstborn daughter Misty," I said several times after our stay at the Misty Mountain Reserve. After a bumpy ride on a dirt road in Tsitsikamma we did not expect a resort like Misty Mountain. We were greeted by gorgeous peacocks running free around the entire areal. We were allowed to stay in cute cottages with names like Tortoise and Dove. We were enthused by the incredibly good food, the exceptionally nice staff and the fantastic sea view. You can either relax at the pool with fruity cocktails or join an adventurous quad tour with Jurassic World feeling. Although Misty Mountain is an idyllic resort to unwind, it even can happen that you will be woken early in the morning by playing monkeys on the roof;)
6 Safari
A safari is probably the highlight of every South Africa trip. At least it was for me! The Scotia Safari Park is a private national park near Addo. On a 6-hour tour with a local ranger, you can encounter EVERY animal which you usually only see in documentaries. We could hardly believe our eyes, as a giant elephant came close to our car. It was almost surreal to observe this gentle giant outside a zoo in his natural habitat. We also saw zebras, giraffes, kudus, antelopes, crocodiles, hippos, … I can not list them all 🙂 To be honest, the lions were a bit scary…very scary! Gladly all the animals are used to the cars in the park so they do not feel disturbed. Last, but not least a little tip: even if you feel this deep desire to take a picture of every wild animal you see, sometimes you should allow the camera to take a break and just enjoy the wonderful impressions.<3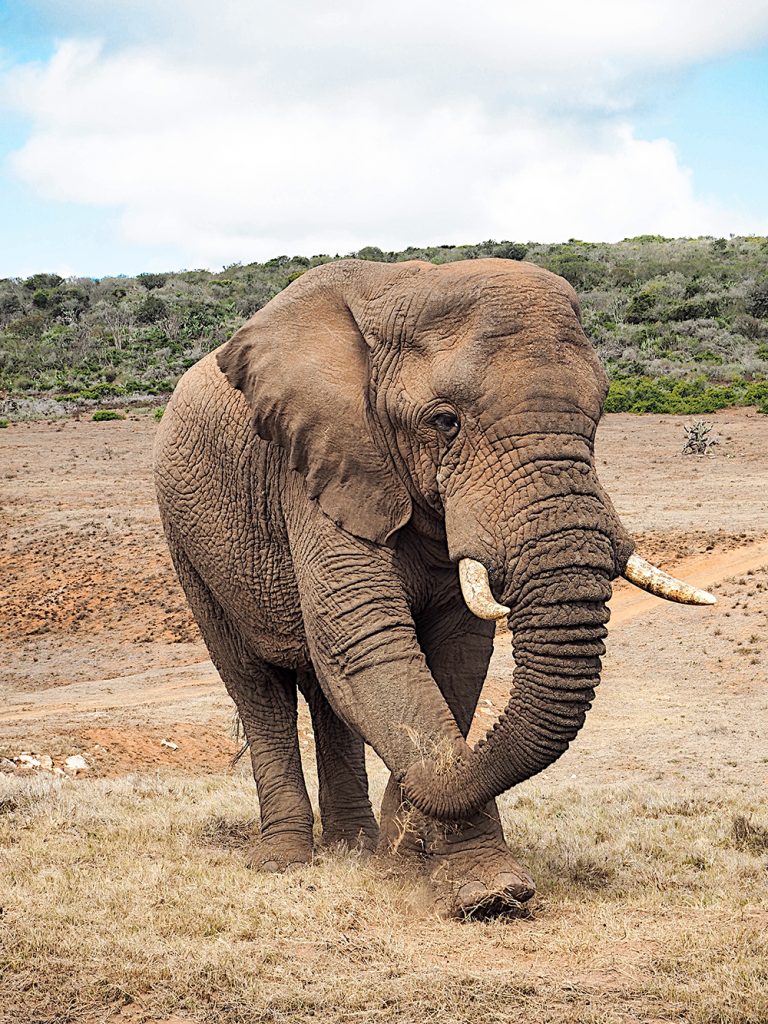 7 Suspension Bridge
A 20 minute walk leads to the Stormsriver Suspension Bridge, which taught me what vertigo means. However, you will be rewarded with a great view <3
8 Rainbow district
Bo-Kaap is a small, historical district at the foot of Signal Hill in Cape Town. Bo-Kaap is especially famous for its colorful houses and narrow streets. I love colors and I immediately fell in love with this cute neighborhood. Walking down the streets felt as if I had landed right in a rainbow! It was magic! My conclusion: A Bo-Kaap visit should definitely belong to the mandatory program of every tourist in Cape Town.
9 Signal Hill
The sunset at Signal Hill was simply fantastic! Many locals end their day with a picnic at sunset there. The place is very popular during the end of the day, so make sure you get there in time to avoid seeing the sunset out of the car.
10 Camps Bay
Below the 12 Apostles you´ll find Camps Bay, a beautiful seaside spot in Cape Town. Although the white sand beach, the great palm tree promenade and the spectacular mountain range in the background may attract lots of tourists, you should also visit this hip beach. We enjoyed our very last day in South Africa with about 30° at this sunny beach before we went back to icy Vienna.